Meet the Assistant Director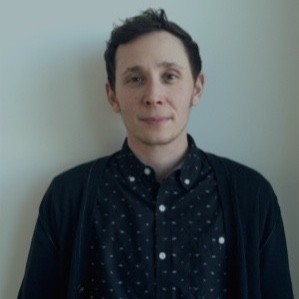 Luke Romanak is the Assistant Director, Student Media & Academic Technology for The Gwen Ifill College of Media, Arts, and Humanities. He is an artist, both in analog and digital media, and is an avid animation and printmaking enthusiast. He specializes in multi-media making across the Adobe Creative Cloud, with a focus in digital illustration and design. He is passionate about helping students and faculty find the right technology tools to make a reality of their creative visions and will never shy away from talking through a large idea for a project.
You can stop by Luke's office, A100K to say hello or make an appointment with him here.
---
Meet the Dean's Fellow
Emily Zieg '22
My name is Emily (she/her) and I'm a second year student in the MLIS program at Simmons. I'm particularly interested in digital librarianship, the arts, and humanities. I also have a degree in linguistics, and before Simmons, I tutored college writing. Outside of class, I enjoy making art, learning new technologies, and anything that combines the two. Come chat with me if you need help with Photoshop, Illustrator, InDesign, or Procreate, or if you just want to talk about your project!
---
Meet the Lab Team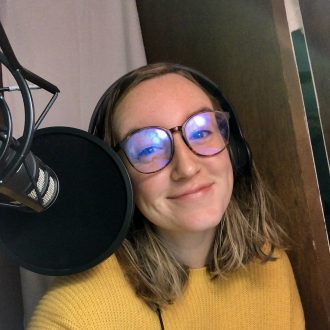 Katie Cole '22
I'm a senior at Simmons studying journalism, political science and radio operations. I'm skilled in copyediting, radio operations, and Adobe Audition, and have worked with Adobe Rush, Premiere, InDesign, Illustrator, and Photoshop. When I'm not in the lab, you can find me in the new student-driven media center and/or drinking copious amounts of coffee.
Come say hi!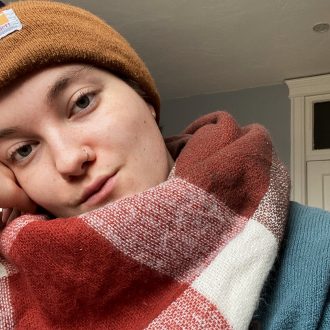 Lennon Sherburne '22
Hi folks! My name is Lennon (they/them) and my expertise centers around radio production and reporting. I can help you with scriptwriting, writing for the ear, audio recording help, and navigating Adobe Audition, among other things. When I'm not producing or listening to radio or podcasts, you can find me shooting film and consuming copious amounts of coffee!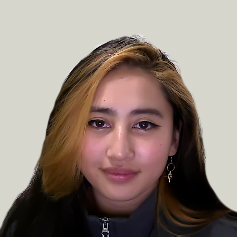 Shania Ambros '22
Hi! You can call me Shania (sha-n-eye-ya) or Naia (n-eye-ya). I'm a Senior Web Design and Development Major with a Cinema and Media Studies Minor. I can provide support with software such as Adobe XD, Figma, Audition, Procreate, Photoshop, InDesign, After Effects, Premiere Pro, and Discord. Additionally, I can answer questions related to Simmons resources and External opportunities for User Experience Design and Social Justice & Advocacy Design.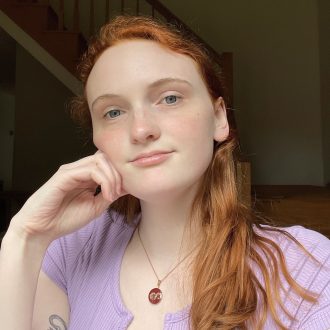 Catherine Bernard '22
I'm a senior journalism student with minors in radio operations and English, and I use she/her pronouns. I love audio and video projects, so I'm always happy to help with radio operations, Adobe Audition, and Premiere. I can also offer support for copyediting and Adobe After Effects. When not in the lab, you can find me napping in strange places or listening to podcasts on the quad.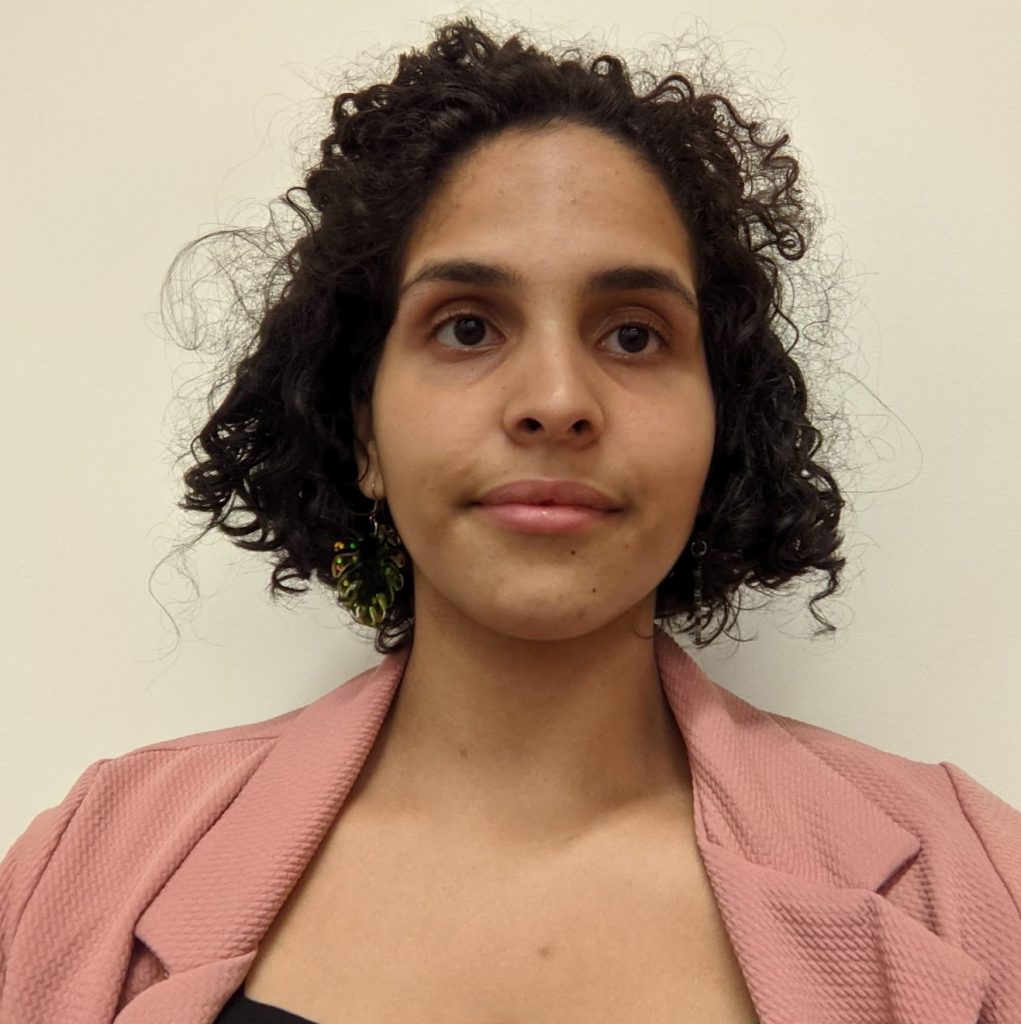 Livic Inoa '22
My name is Livic, and I'm a Senior Computer Science major, and Philosophy minor at Simmons! I have a new interest in design and I work with audio and songwriting in my spare time. I love working with hardware and the physical aspects of equipment. I'm looking forward to expanding my field and learning more about the fun projects that go on in the Communications Department here at Simmons!
Abrielle Cunningham '23
Hi I'm a junior studying communications with a concentration in media and I'm minoring in Spanish. I enjoy writing, podcasting, and photography. I can help with copyediting, Adobe InDesign, Audition, and Spark. Outside of school, I love spending time outdoors and roller skating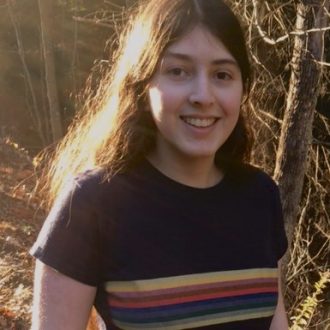 Zoe Zeballos '23
I'm a junior majoring in Communications with a concentration in Media Arts and Web Design & Development. I like to draw and make videos so I'm proficient in Adobe Photoshop, Fresco, Illustrator, InDesign, Premiere, and Rush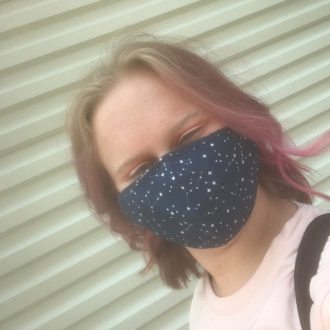 Sophie Bredensteiner '23
My name is Sophie Bredensteiner and I'm a junior communications major here at Simmons! I'm focusing on Public Relations and Marketing Communications. My pronouns are she/they. I'm still learning more about Adobe, but I know a bit about indesign so I can do my best to help with your projects! When I'm not in the lab you can find me working at Target or hanging out around campus. I'm super stoked about meeting people in the COMMunity and look forward to working with you!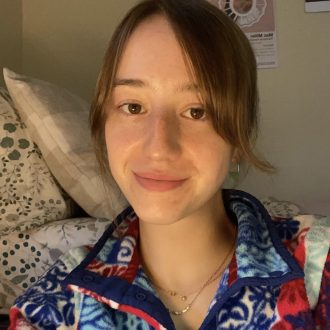 Julia Rush '24
I am a Sophomore here at Simmons and I am double majoring in Business Management and Communications with a concentration in journalism. I am new to all of these programs but I am excited and ready to learn! I am passionate about radio operations and audio editing as well as copyediting. I'm really excited to help with any projects that you are passionate about, whether they're for class or just for fun!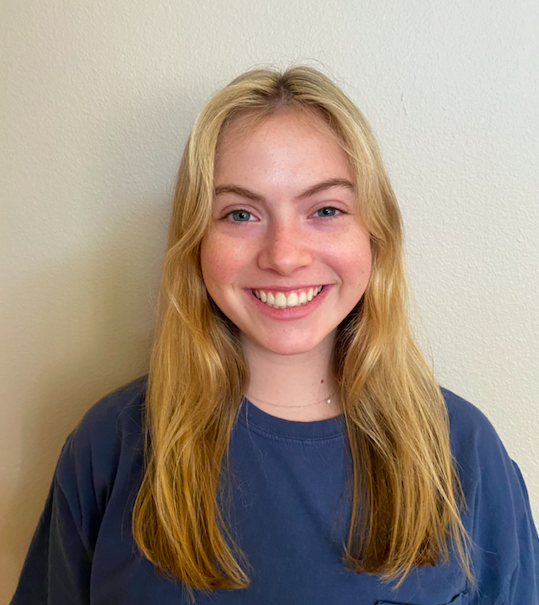 Megan MacNamara '24
My name is Megan (she/her) and I am a sophomore playing volleyball at Simmons! I am studying Computer Science. I am skilled in film production and editing, and certified in Adobe Premiere Pro and After Effects. I'm always learning so don't be shy to ask any software or hardware related question!